Using Virtualbox create a Centos vm using the iso dvd image referenced in the earlier post.
Start Virtualbox and select "New"
Select "Create"
Select "VDI"
Set at at "20.00GB"
Once created select the new VM, "CentosVM" and then select "Settings"
Select "System"
and set the memory to at least 4GB and CPU to 2 cpu's
Select "Storage"
Select the "+" for add a Controller
Select "Choose Disk"
Select the Downloaded Centos iso DVD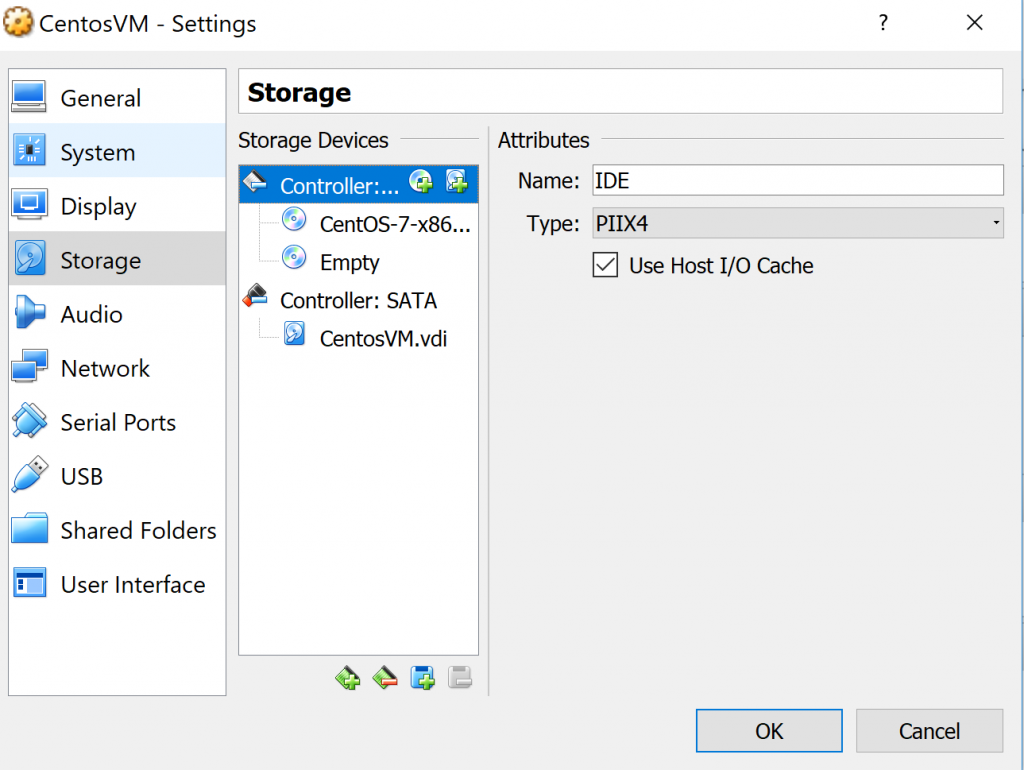 Select "OK"
Select "Display" and set the "Scale Factor" at 200%
Select "OK"
Select the new VM and then select "Start"
N.B When using the mouse cursor indside the window it wil become trapped. Use the righ hand side button to free the mouse cursor to be able to use it on the windows screen.
Select "KDUMP", ensuer it is not Enabled then select "Done"
Select "Installation Destination" and then "Done"
Select "Security Policy", ensure the policy is off, then select "Done"
Select "Network and Hostname", ensure the Ethernet is ON, and enter the hostname "Centos\localdomain", select "Apply" and then "Done"
elect "Installation Source" and "Done"
Select "Software Selection" and then just add all the software; after all this is a test machine.
Select "Begin Installation"
Set the root password and create the user "DevopsDBA"
Reboot when complete
Log in
Insert the VirtualBox Guest Editions software
Select "Devices -> Insert Guest Editions CD Image …" from the VirtualBox window.
Then select "Run"
When complete hit "Return" and shutdown the system.
Add a shard drive
In this example I will add the windows Downloads folder so that it can be shared with the Centos linux VM.
In VirtualBox with the Centos VM selected, choose "Settings" from the top menu (or right click the host and choose settings)
Select "Shared Folders"
Using the RHS "+"option, add the Downloads folder
Select "OK" and then  start the host and login.
Open a terminal and execute the command:
sudo usermod devopsdba -a -G wheel,vboxsf
When complete logout and log back in.
Execute the command:
ls /media/sf_Downloads/
The Downloads folder is now accessible to the VM.
Update Centos
Enter the command
sudo yum update -y
This will bring the system up to the latest update